The Great Dress
Sapir Academic College, Hanegev, Israel, 2022
A site specific installation of Gili Avissar, curatorship and exhibition design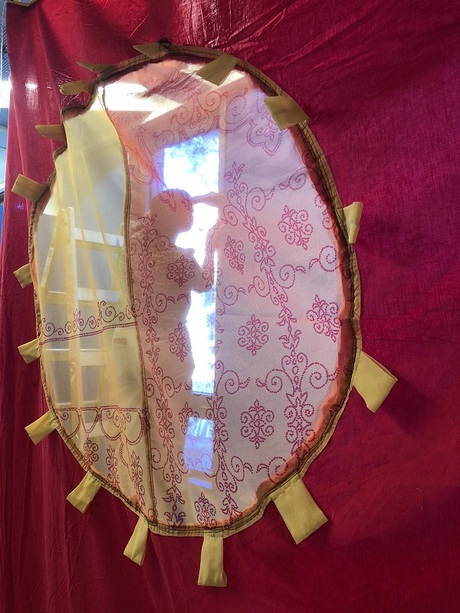 A joint work of artist Gili Avissar and curator Ronit Eden resulted in the exhibition The Great Dress. For months they created an installation specifically for the Sapir Academic College gallery, in Israel. The limitations of the current period, such as not being able to travel and to meet in person, kept both in the city where they live and work: him in Düsseldorf, and her in Amsterdam.
Gili Avissar, the master of weaving, created an installation of different materials and intense colors which connects all three of the gallery's spaces into one universe. The installation is full of aisles; kind of passages forming throughout the installation, merging it with the daily reality of the gallery - a temple of dreams - and uniting them. Between the passages, two new video art works are projected, connected to the fantastic landscapes that Avissar created.
At first, there was chaos: leftovers of garments, fringes and piles of cloth, ropes and tissues; the artist first dismantles parts of works of art which he has made in the past and only then does the assembly of a new artwork begin.
In this chaos, from the depths of the gut, he gathers a piece of cloth and attaches it to the edge of a ribbon which he sews onto the next piece. The pile slowly forms a life of its own. Step by step, it demands a surface: Just the walls, at first. Gradually, it stretches towards the ceiling, then consumes increasing chunks of the floor. The finished installation suggests that it might swallow her wanderers.
The geographical location of the space, on the border of Israel and Gaza, echoes in the work of art: destruction and reconstruction are merged into a tangible work of art.
Photo: Gili Avissar